The Moleskin Smart Writing Set was the answer to one of the worst moments for a writer: when their notebook with all the planning and thoughts for a work in progress goes missing.
I am a hybrid writer. I'm pretty obsessive about using my tech to take notes, draft blog posts, write actual chapters of my 📚 books.  I use my WIP notebook to keep details in one place.  But when it comes to thinking about writing, planning, plotting, and being creative I need a notebook to write in. I need the flexibility to draw in corners, write outside of the lines and put thoughts on the pages as they make sense to me.
I discovered the Moleskin notebooks 📓 a while back and love them. The hard cover, the pages. I've used the boxes for storyboards, the grid and lined for thoughts and brainstorming. And I have a notebook for every book and every major topic of focus that I write about.
A few weeks ago, I thought I lost one- the one with all my notes about my current work in progress book. All that plotting and planning, gone.  All those character maps and backstory points, gone.
I found that book, after a day of freaking out. (We don't call that overreacting but more an appropriately placed amount of concern…) and I wondered how to fix this. I knew Moleskin created Evernote specific books that you can scan and copy. But I wanted something , well geekier. 🙂
Hence the Moleskin Smart Writing Set. I'm smarter already just by talking about it right?
And because I have an amazing hubby who is a fabulous gift giver (and I'm guessing I wasn't very subtle with the hints on this) I got this for my birthday.
Because I had a lot of questions about it, I thought I'd open it up and test it out with you.  So here goes.
Here's what comes in the Moleskin Smart Writing Set:
One notebook
The Moleskin Neo Smart pen
A charger
One pen refill
I immediately download the app too.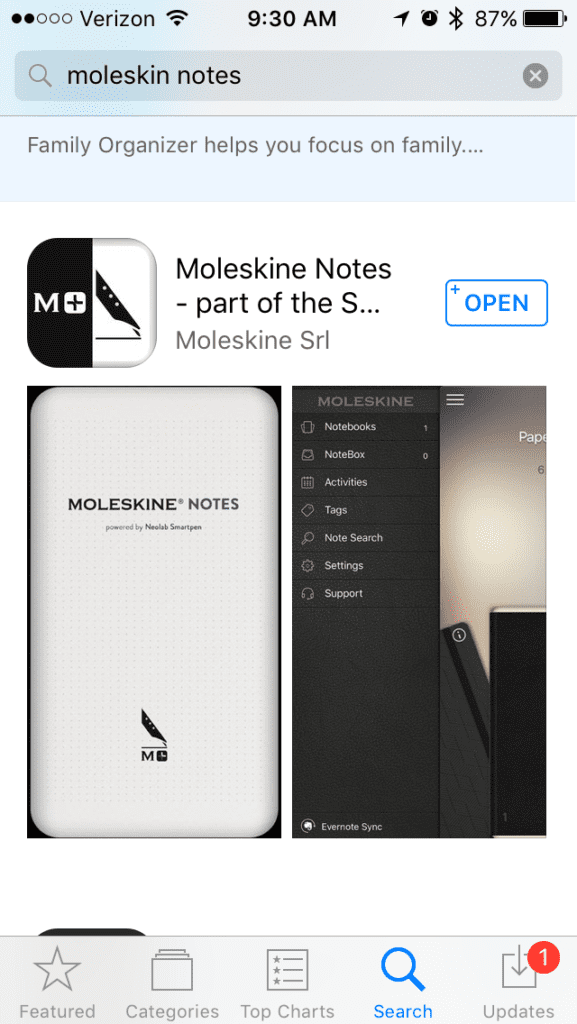 (Yes I read instructions.)
I know this all syncs to Evernote – where all my note taking happens so I'm curious to see the connection.
The app downloads and I can open it.
Okay, so my pen has to charge before I can really see what this can do. (I think that was in the instructions, so maybe I don't read them all….)  So now, we wait…
In the meantime, though, let's check out the notebook.
The Moleskin Paper Tablet
When I first saw the Moleskin Smart Writing Set in the store, because of how they are wrapped, the notebooks look like tablets, not paper notebooks.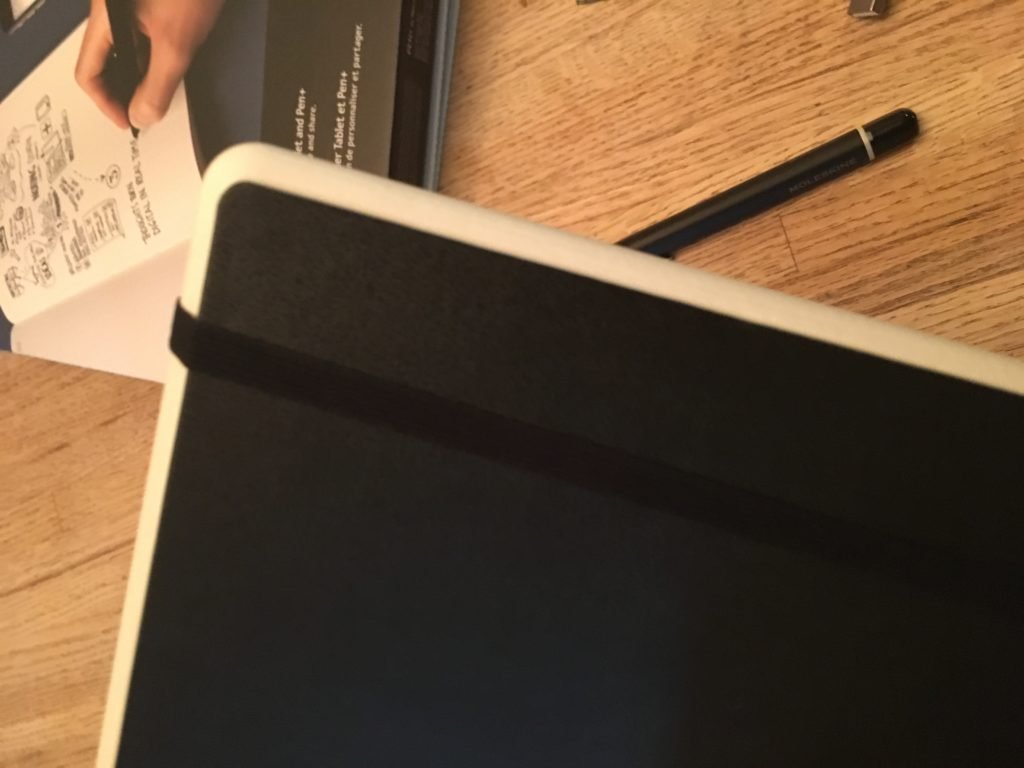 The edge of these notebooks has been beveled to look like a tablet.
I know. I'm a geek – but I think that's pretty cool. 🙂  Anyway…  Though it LOOKS like a tablet on the outside, the paper inside is exactly what Moleskin users will be used to.
This version has the dots, but I imagine there are ones with lines as well.  I only have this one paper tablet so far, so I guess I'll just have to buy another one to test it out. 😉
So now I've got all my pieces in place.  As you can see in the pic below, there is a light on the pen that shows what state it's in.  It's currently red, so that means it needs some battery juice.  Charge pen charge!!
(Oh and best hubby ever? This purse – my first Coach purse ever. His gift. All by himself. He rocks. Sorry ladies you can't have him. ❤️ )
Once the pen was finished charging (which took a few hours the first time), the light on the pen turns white (image below.)  Now it's ready to go and I can connect the pen to the app, and test this puppy out.   I'm so excited, it's probably a little pathetic at this point. 🙂
I read that it will give 5 full hours of writing time. That's pretty great.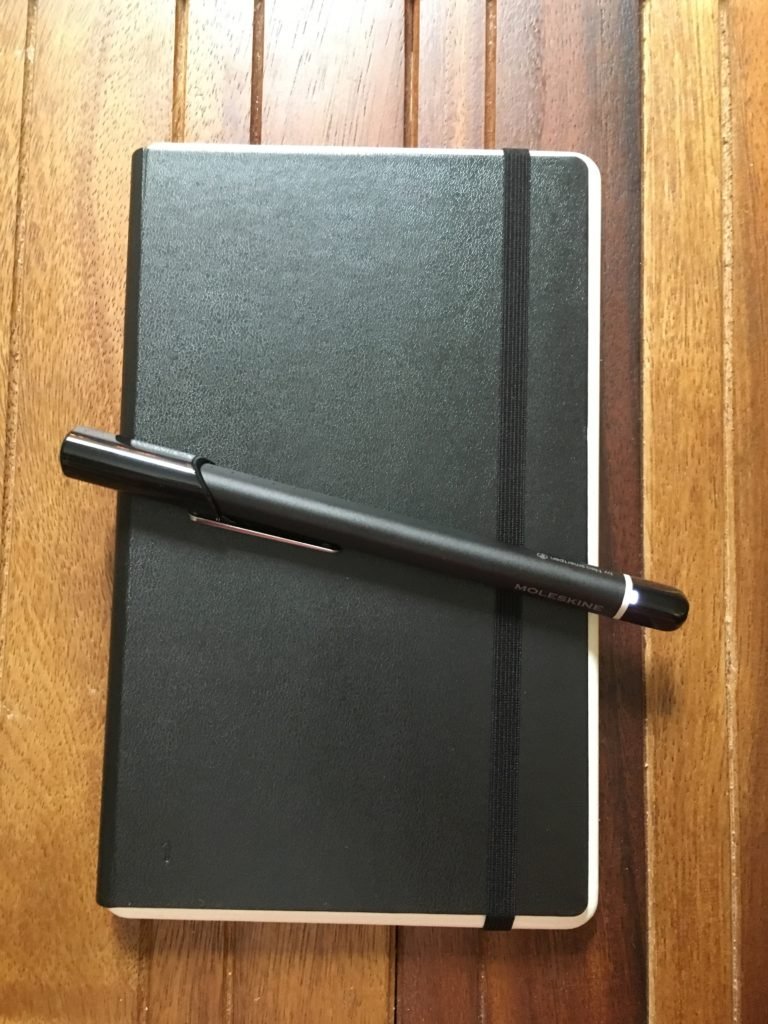 Here is what the tip of the Moleskin Smart Writing Set pen looks like:
The camera is in under the pen so how you hold it matters. The camera needs to face down.
Once it's charged, getting it registered with the Moleskin app is pretty simple. It prompts you with instructions along the way. Once you're registered you can create a new notebook in the app and give it a name. (Just click on the name and type away.)
So I'm the meantime here is my current in-use collection of Moleskin notebooks.
My handwriting isn't always the greatest so I'll be curious to see how the pen recognizes it.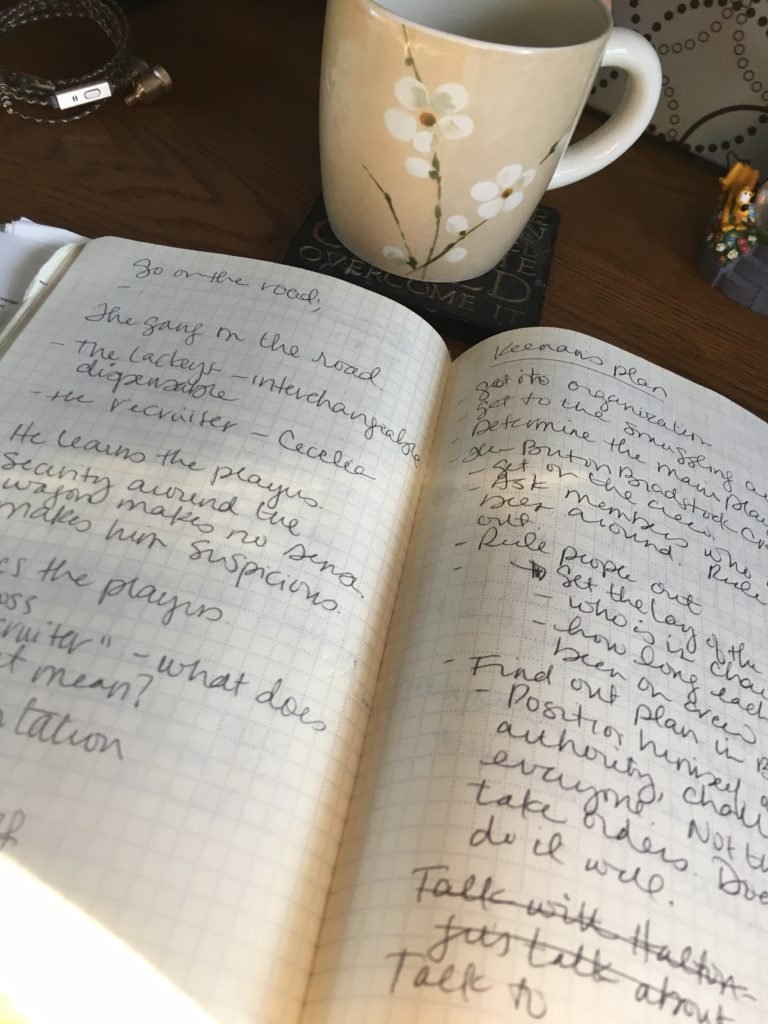 It has the ability to digitize or just copy over.
Connecting to Evernote
For me connecting to Evernote is mission critical because I use Evernote for everything. I wrote this blog post in Evernote on my phone, in fact, as I sat on my couch checking out my new toy.
Once I get into the app, figuring out the connect to Evernote doesn't seem as intuitive.  It look a little looking around before I found the right place on the Moleskin Notes App:
And when I click to slide on Evernote I'm prompted with this:
All right… let's find out how and where to do that. Next up, the app settings, which seem a likely culprit:
A variety of settings available here.  But I'm looking specifically on how to sync this app, so
Authentication Center seems a good start.
That's exactly where I need to go. Click to slide Evernote over and then it will prompt you to sign in with Evernote.
Then authorize and you're set up.
Syncing the Pages Between Moleskin App & Evernote
Now let's find out how it knows where to sync the pages.
Well I'll be damned. This is so incredibly cool. I am so excited!!
I went page to my notes listing in Evernote and take a look at what's there:
And when I click on the page:
It has created a notebook that matches what I called my notebook in the Moleskin app. : ideas book — and placed it within a Moleskin Notes stack.  My notebook is already in there, which leads me to believe that is where additional notebooks will show up as well.
And page 2 from my Ideas notebook has synced over and  been updated to this, showing in the Moleskin app:
This is the version that I edited on the Moleskin app- adding the color. It takes a little time to sync the updated page over to Evernote but it catches up.
This is the same page, not an additional page 2- just updated to show.
Gif
This is game changing.
I hate that term for technology because everyone uses it. But it is. For me the Moleskin Smart Writing Set connects the two ways I take notes- it syncs them, protects them and makes them available on my phone whenever I want them.
Important to note: The pages come over to Evernote as images, not editable.
Additional Points to Note
There is a ton more functionality to this that I'll review later. (Like the ability to edit and color your pages and transcribing into text ) but for now I need to play.  A few other notable points:
You can backup or restore by syncing with Google Drive as well.
You can use more than one notebook – note when you're looking to purchase these, they are called Moleskin Paper Tablets.
I also found them originally in Staples – in other colors. They run about $29 each.  Also on Amazon.
Replacement ink for the pen. It comes with one replacement but it's simple to replace the ink. Any 0.7 millimeter ballpoint pen refills will work.
A great tool for writers or note-takers
This really seems like a great tool for writers or note-takers who like using traditional notebooks for some aspects of what they do, but want the security that comes with things in the cloud.  I would heartily recommend this set.