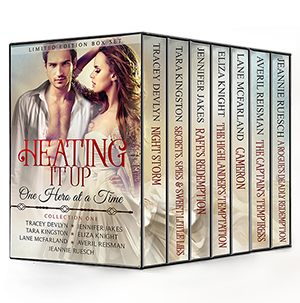 I'm thrilled to bring you A Rogue's Deadly Redemption as part of a limited boxed set edition with 6 other amazing historical writers — books you'll love!   Do you love Scottish Highlanders, Regency Rakes, Confederate Spies, Mountain Men & Sexy Smugglers? Check out HEATING IT UP, One Hero at a Time!
Get ALL seven stories for just 0.99¢ now!
Amazon Kindle | Apple iBooks  | B&N Nook | Google Play | Kobo  | Goodreads
Join the Party
Lots of celebration to be had! Join the fun everywhere with us and participate to win a $100 gift card!
11/16/14 http://www.ramblingsfromthischick.com/ Tracey Devlyn
11/16/14 http://www.sillymelody.blogspot.com/ Tracey Devlyn
11/17/14 http://www.bookinitreviews.com/ Lane McFarland
11/17/14 http://www.romrevtoday.blogspot.com/ Lane McFarland
11/18/14 http://www.brookeblogs.com/ Eliza Knight
11/18/14 http://www.eclecticpassionsbc.blogspot.com Eliza Knight
11/19/14 http://www.sosaloha.blogspot.com/ Jennifer Jakes
11/19/14 http://www.readinginpajamas.wordpress.com/ Jennifer Jakes
11/19/14 http://www.wowfromthescarfprincess.blogspot.com/ Jennifer Jakes
11/20/14 http://www.BookObsessedChicks.com/ Tara Kingston
11/20/14 http://www.romancingthereaders.blogspot.com/ Tara Kingston
11/21/14 http://www.somanyreads.com/ Averil Reisman
11/21/14 http://www.adriasromancereviews.blogspot.com/ Averil Reisman
11/22/14 http://www.cluereview.blogspot.com/ Jeannie Ruesch
11/22/14 http://www.totallyaddictedtoreading.blogspot.com/ Jeannie Ruesch